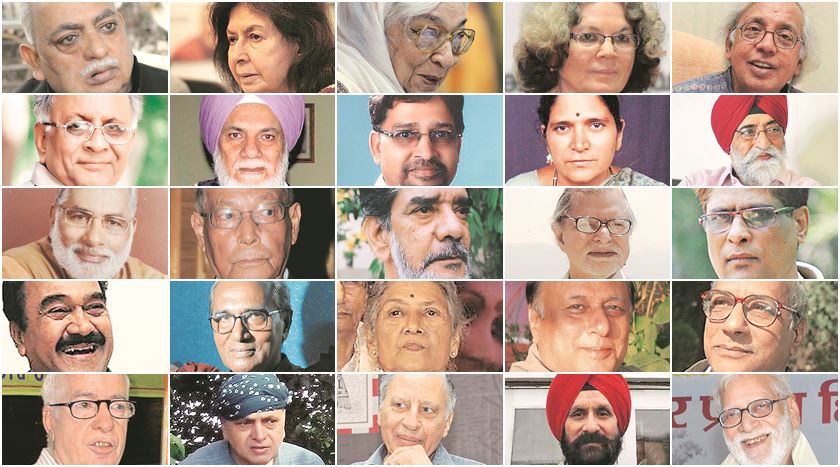 It started in early September when Hindi writer Uday Prakash returned the Sahitya Akademi award he won in 2010 for the novella Mohandas, to protest against the Akademi's "indifference" over the murder of intellectuals such as M M Kalburgi. Nearly three dozen writers have since returned their prizes to the Akademi. Punjabi writer Dalip Kaur Tiwana has returned her Padma Shri. It has been called a manufactured "paper rebellion against the government in the wake of a manufactured crisis". Did these writers protest against the Emergency, 1984 anti-Sikh riots, Bhagalpur riots of 1989, or the UPA corruption, they have been asked.
The fact is many among the writers in focus — from Malayalam writer Sarah Joseph to Punjabi writer Baldev Singh Sadaknama — do have a history of questioning the state. Take the case of Ajmer Singh Aulakh, a 73-year-old Punjabi writer from Mansa, a town in Punjab's cotton belt. Aulakh, who was jailed during the Emergency and whose plays on the agrarian crisis offer a sharp critique of the State, feels "our freedom of speech and independent thinking has been violated". He wants writers to come together and speak out against religious intolerance. Anil Joshi, a Mumbai-based Gujarati writer, had returned the Gujarat Sahitya Akademi award he won in 1990 when a schoolgirl was set afire by her classmate in the presence of teachers. Joshi seems to think there is a pattern in the murders of M M Kalburgi, Narendra Dabholkar and Govind Pansare. Others like Punjabi author Waryam Singh Sandhu, who was jailed by the Congress government during the Emergency, believe "these are dangerous times" and writers must join hands and fight.
As the accompanying profiles reveal, there is very little in common between, say, Kannada author Rahamat Tarikere and his better known peers such as Nayantara Sahgal and Kashinath Singh other than their  questioning the immorality of the politically and socially powerful people. Every Indian language is a little India home to many such instinctively rebellious writers who believe it is their duty to respond when there is injustice. Rajasthani writer Ambika Dutt recalled Munshi Premchand's words to put the protests in perspective: "Literature is not something which follows politics, but leads it like a torch".
By Amrith Lal