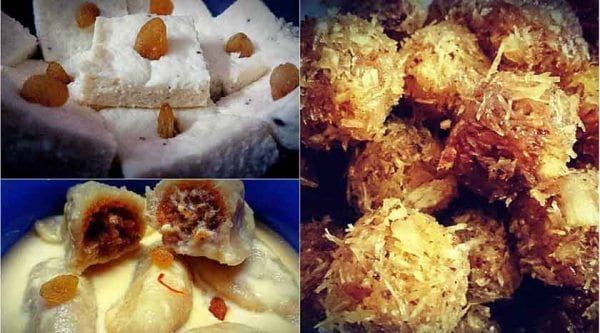 With Goddess Durga returning to her abode and Ravan going up in flames, the Durga Puja and Dussehra celebrations are practically over for this year. You could see many in Bengal getting emotional while bidding adieu to Durga and celebrating the end of Ravan and an "evil era", but if you thought festivities were over in a Bengali household, you were very wrong.
With the departure of Durga begins the auspicious period of 'Bijoya', in celebration of the victory of good over evil, which goes on till Diwali. The celebration of Bijoya, literally meaning 'victory', begins right after the visarjan (immersion of the idol), with people hugging each other and distributing sweets. In some parts, Neelkanth (Indian Roller) birds are released after the visarjan to mark peace descending on earth.
Traditionally, this was the time when Bengalies visited friends and relatives' houses and exchanged 'Shubho Bijoya' greetings. The younger generation touched feet of the elders to seek blessings, and men did a 'kolakuli' (hug).
Old-timers will testify they would even go to strangers' houses during this period when they were young. Apart from exchanging greetings, there was a specific attraction for that. As per the custom, guests paying a visit to greet 'Shubho Bijoya' cannot return without being offered something sweet to eat. As a result, it used to be a busy time for women in the households as they needed to stay prepared for the steady stream of visitors.
Over time, the intensity of Bijoya may have waned, especially in urban Bengal, but the concept is still very much alive for the community everywhere. In fact, it gives the Bengalis settled in other states and abroad a chance to continue with the catching-up time that starts from Durga Puja.
It is said a Bengali household is usually not without sweets any time of the year. But when it's Bijoya, it is mandatory to stock sweets. It is mostly ready-made sweets nowadays, but our grandmothers were quite particular about making them at home. Some of those sweets are rarely seen these days, unless your family is a stickler for traditions.
Here are five of some quintessential Bengali homemade sweets that would be found in Bengali households during Bijoya and other special occasions.
© IE Online Media Services Pvt Ltd